Biography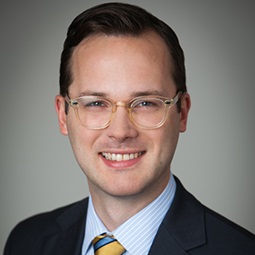 Eric Behl-Remijan is counsel, elected partner effective January 1, 2022, in Weil's Tax Department and is based in New York. Eric specializes in corporate, international and partnership tax matters, as well as domestic and international mergers and acquisitions.
Eric has played a significant role on the teams advising public companies and private equity sponsors on a range of domestic and international mergers and acquisitions including:
Advent International in its acquisitions of Clearent Corp. and FieldEdge and the simultaneous merger of the two companies; the $3 billion merger of its portfolio companies Clearent LLC and Transaction Services Group Limited to form Xplor Technologies; its acquisition of Williams Lea Tag; the acquisition by its affiliate AI Beauty Holdings of bareMinerals, BUXOM and Laura Mercier; its sales of MORSCO, Inc. and The Coffee Bean & Tea Leaf; Serta Simmons Bedding LLC's grant of a new license to, and receipt of a minority stake in, a joint venture with King Koil Shanghai Sleep System Co., Ltd.; Serta Simmons Bedding's merger with Tuft & Needle; Noosa Yoghurt, LLC's merger with Sovos Brands; Sovos Brands in its acquisition of Birch Benders, LLC; and International Coffee & Tea in its $350 million sale to Jollibee Foods Corp;
Apollo Infrastructure in its acquisition of Lendlease (US) Telecom Holdings LLC (n/k/a Parallel Infrastructure);
Ardian in its acquisition of a majority stake in Florida Food Products, Inc., in a transaction that valued Florida Food at more than $1 billion;
ATI Physical Therapy Holdings, LLC (a portfolio company of Advent International) in its $2.5 billion business combination with Fortress Value Acquisition Corp. II, a SPAC sponsored by Fortress Investment Group;
Atos S.E. in its $1.1 billion acquisition of the information technology outsourcing business of Xerox Corporation;
Benefytt Technologies, Inc. in its $625 million take-private by Madison Dearborn Partners;
Berkshire Partners and its portfolio company National Carwash Solutions Inc. in the acquisition of Zep Vehicle Care;
Black Knight, Inc. in its acquisition of Optimal Blue LLC, in a transaction that implied an enterprise value of $1.8 billion;
Brookfield Asset Management Inc. in its approximately $4.8 billion acquisition of a 61.2% stake in Oaktree Capital Group, LLC;
Brookfield Property Partners L.P. in its sale of IDI Logistics Realty to Ivanhoé Cambridge Inc.;
Brooks Brothers Group, Inc. in its $325 million sale to SPARC Group LLC;
ChargePoint, Inc. in its combination with Switchback Energy Acquisition Corporation, a SPAC sponsored by NGP Switchback, LLC, in a transaction that implied a ChargePoint enterprise value of $2.4 billion;
Chevron U.S.A. Inc. in its joint venture with Mercuria Energy Trading Inc. to acquire and operate American Natural Gas LLC;
Cornell Capital in the acquisition by INW Manufacturing LLC of Capstone Nutrition;
CoStar Group, Inc. in its $450 million acquisition of STR, Inc. and in its $190 million acquisition of Ten-X, LLC;
CSL Behring LLC (a subsidiary of CSL Limited) in its up to $416 million acquisition of Calimmune, Inc.;
Dex Media, Inc. (n/k/a Thryv) (a portfolio company of Mudrick Capital Management and Paulson & Co.) in its acquisition of YP Holdings LLC;
Eli Lilly and Company in its approximately $8 billion acquisition of Loxo Oncology, Inc.; in its $1.1 billion acquisition of Dermira, Inc.; in its $1 billion acquisition of Prevail Therapeutics Inc.; in its $8.2 billion exchange of its approximately 82% remaining interest in Elanco Animal Health Incorporated for Lilly common shares held by its shareholders; and in a global licensing and research collaboration with Sitryx Therapeutics Limited, including Lilly's investment in Sitryx as partial financing for the transaction;
Front Yard Residential Corporation in its $2.5 billion take-private by a partnership formed by Pretium Partners and Ares Management;
General Electric Capital Corporation in its $32 billion sale of its global Commercial Distribution Finance, North American Vendor Finance and North American Corporate Finance platforms to Wells Fargo & Co.;
General Electric Company in its $2.6 billion sale of GE Industrial Solutions to ABB;
The Gores Group in its sale of Elo Touch Solutions, Inc.;
Healthcare Merger Corp., a SPAC sponsored principally by Shulman Ventures and MTS Health Partners, in its merger with SOC Telemed in a transaction that implies an initial enterprise value of $720 million;
H&R Block, Inc. in its $405 million acquisition of Wave Financial Inc.;
The Home Depot, Inc. in its acquisition of the assets of The Company Store Group, LLC;
Intel Corporation in its $16.7 billion acquisition of Altera Corporation;
Irving Place Capital and its portfolio company Pet Supplies Plus, LLC (PSP) in the sale of PSP to Sentinel Capital Partners;
The Kroger Company in its up to $700 million acquisition of Home Chef;
Lee Equity Partners in its investment agreement with McLarens;
Magellan Health, Inc. in its $400 million acquisition of Senior Whole Health, LLC; in its $850 million sale of Magellan Complete Care to Molina Healthcare, Inc.; and in its $2.2 billion merger with Centene Corporation;
Micron Technology, Inc. in the sale of its Lehi, UT fab for $900 million in cash;
Mudrick Capital Management and its portfolio company Thryv Holdings, Inc. in Thryv's $200 million acquisition of Sensis Pty Ltd.;
Providence Equity Partners and PSG, as part of a consortium led by CVC Capital Partners and that also included Ridgemont Equity Partners, in the business combination of GlobalTranz Enterprises, Inc. with Worldwide Express, Inc.;
PSG and its portfolio company Assembly in a significant recapitalization led by Advent International;
Rakuten USA, Inc. in its acquisition of Curbside, Inc.;
Sanofi in its $3.7 billion acquisition of Principia Biopharma Inc. and in its $350 million sale of its Seprafilm Adhesion Barrier and related assets to Baxter International Inc.;
Sears Holdings Corporation in the $5.2 billion sale of its core assets to ESL Investments Inc. in connection with its chapter 11 proceedings;
SocialChorus, Inc. (a portfolio company of Sumeru Equity Partners) in its merger with Dynamic Signal Inc.;
Software Luxembourg Holding S.A. in its $1.3 billion merger with and into Churchill Capital Corp II, a SPAC sponsored by the Churchill Capital Group;
Vonage Holdings Corp. in its pending $6.2 billion sale to Telefonaktiebolaget LM Ericsson;
Walgreens Boots Alliance, Inc., in, together with KKR as investors in a newly formed company, that company's $1.4 billion take-private of PharMerica Corporation; and
Willis Towers Watson PLC in its $1.3 billion acquisition of TRANZACT.
Eric has also played a significant role on the teams advising clients on a range of finance and capital markets transactions including:
AMC Entertainment Holdings, Inc. in its $600 million issuance of senior unsecured convertible notes to Silver Lake to finance AMC's repurchase of a portion of its stock held by Dalian Wanda Group Co., AMC's majority owner, and to pay a special dividend;
Elanco Animal Health Incorporated in its $1.7 billion initial public offering to finance, primarily, its purchase of the portion of Lilly's animal health businesses Elanco is acquiring in connection with its spin-off from Lilly;
Goldman Sachs Credit Partners in a $4.2 billion committed bridge facility to finance the proposed cash and stock acquisition by Lam Research Corporation of KLA-Tencor Corporation; and
Morgan Stanley and Credit Suisse in providing $7.5 billion committed bridge financing to support the merger between International Flavors & Fragrances Inc. and DuPont's Nutrition & Biosciences Business in a Reverse Morris Trust transaction.
In addition, Eric regularly counsels pro bono clients on tax-exemption matters.
Prior to joining the Firm, Eric was an extern at the Joint Committee on Taxation of the U.S. Congress.
Eric has been recognized as a "Rising Star" in Mergers & Acquisitions by New York Super Lawyers 2019-2021. Eric is a member of the New York State Bar Association (Tax Section & LGBTQ Law Section) and the International Fiscal Association USA Branch.
Firm News & Announcements
Firm News & Announcements