Biography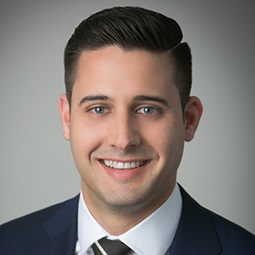 Damian Petrovic is an associate in Weil's Private Equity practice and is based in New York. Damian participates in the representation of private equity sponsors and their portfolio companies with respect to mergers, acquisitions and divestitures.
Damian has been part of the teams advising:
AMP Capital Investors in its acquisition of ITS Technologies & Logistics, LLC
Aterian Investment Partners in the acquisitions by its portfolio company, Vander-BendVander-Bend Manufacturing, Inc., of Swiss Precision Machining, LLC and J.L. Haley Enterprises, Inc.
Avolon Holdings Limited and its parent, Bohai Capital Holding Co., in Bohai's sale of a 30% stake in Avolon to ORIX Aviation Systems Limited based on an enterprise value of $23.7 billion
CPP Investments in the merger of The Ultimate Software Group, Inc. with Kronos Incorporated in a deal that values the combined company at $22 billion on an enterprise value basis
Churchill Capital Corp III, a SPAC sponsored by Churchill Capital Group, in its $5.7 billion merger with MultiPlan, Inc. that has an enterprise value based on the transaction of approximately $11 billion
Churchill Capital Corp IV, a SPAC sponsored by Churchill Capital Group, in its $11.75 billion merger with Lucid Motors
Dex Media, Inc. (n/k/a Thryv) (a portfolio company of Mudrick Capital Management and Paulson & Co.) in its acquisition of YP Holdings LLC
Francisco Partners in its acquisition of Dynamo Software Ltd.
GS Acquisition Holdings Corp II, a SPAC sponsored by an affiliate of Goldman Sachs, in its $2.6 billion business combination with Mirion Technologies, Inc. (at the time, a portfolio company of Charterhouse Capital Partners)
Guidepost Growth Equity in its investment in ThinkHR Corporation
Lee Equity Partners in its acquisition of K-MAC Holdings Corp.
Lone Star in its acquisition of Bentley Mills, Inc.
Oak Hill Capital Partners in its sale of TriPlus Administrative Services Inc.
PSP Investments in a PIPE investment in Virtu Financial, Inc. to finance in part Virtu's $1.4 billion acquisition of KCG Holdings, Inc. and as part of a global investor group, in the acquisition of ownership stakes in AlixPartners
Snow Phipps Group in its acquisition of Ideal Tridon Holdings, Inc. and in its sale of Kele, Inc.
Tower Three Partners in its sale of NTS Communications, Inc.
TPG, through its affiliate Pace Holdings Corp., in the business combination with Playa Hotels & Resorts B.V., a transaction valued at approximately $1.75 billion
TPG Global in the acquisition by TPG Pace Holdings Corp., a SPAC sponsored by TPG Pace Group, of the stock of Accel Entertainment, Inc., with the resulting entity having an initial enterprise value of approximately $884 million
TPG Pace Solutions Corp., a SPAC sponsored by TPG Pace Group, in its $4.5 billion business combination with Vacasa LLC
Damian grew up in Sydney, Australia, and he received his B.A., and his LL.B., with honors, from Macquarie University.
Awards and Recognition, Speaking Engagements, Guides and Resources, Latest Thinking, Firm News & Announcements
Firm News & Announcements