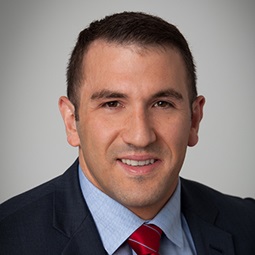 Chris Marando has represented clients in all phases of patent infringement and validity disputes before several United States District Courts and in Section 337 investigations before the United States International Trade Commission. Chris has participated in trials in both forums. Chris also has experience in inter partes review proceedings, patent-related due diligence matters, and appeals before the U.S. Court of Appeals for the Federal Circuit. Chris's pro bono service includes representing veterans in appeals for benefits before the U.S. Court of Appeals for Veterans Claims.
With a degree in Mechanical and Aerospace Engineering, Chris possesses the background necessary to litigate matters involving a variety of technologies, including semiconductor processes, storage servers, customized mass marketing, wearable fitness technologies, Internet communications, wireless communications (including error coding for wireless channels), and mobile phone software and hardware.
DSS v. Samsung – Represents Samsung in patent litigation and related IPR proceeding relating to semiconductor fabrication technology (obtained stipulation of noninfringement and final decision of invalidity from the PTAB).
FastVDO v. Apple – Represents Apple in patent litigation alleging infringement of patent relating to error coding.
ParkerVision v. Apple – Represents Apple in ITC matter alleging infringement of patents relating to signal modulation.
adidas v. Under Armour – Represents Under Armour and its subsidiary in patent litigation and related IPR proceedings relating to wearable technology and mobile fitness applications.
In 2015, Super Lawyers listed Chris as a Rising Star in the Washington DC region for Intellectual Property Litigation.