Biography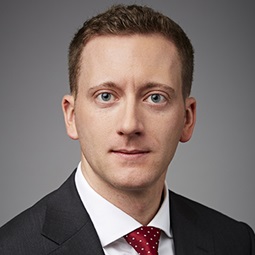 Christopher Lavin is an associate in the Patent Litigation practice in Weil's Silicon Valley office. His practice area focuses primarily on technologies in the life sciences field. He has experience with Federal Circuit appeals, district court litigation, International Trade Commission investigations, state court proceedings, and inter partes reviews before the U.S. Patent and Trademark Office. He is comfortable with all phases of litigation – from prior to the advent of an action, through discovery, trial, and appeal. Mr. Lavin also serves on teams that counsel clients with respect to evaluating intellectual property portfolios for corporate mergers and acquisitions, financing, and investment rounds, as well as with respect to potential litigation risks.
Representative Experience
Member of trial team that secured a complete, $24 million verdict for Bio-Rad Laboratories and the University of Chicago in a patent infringement suit brought against competitor 10X Genomics regarding sophisticated genetic testing methods. After brief deliberations, the Delaware federal jury held that all of the asserted patents are valid and infringed, and that the infringement was willful, and awarded the full amount of requested damages. In 2019, after a Delaware federal judge upheld the patent jury verdict, Weil secured a significant follow-on victory when the court granted Bio-Rad and University of Chicago's post-trial motion for a permanent injunction barring 10X from manufacturing or selling a number of accused products that infringed the patents-in-suit.
Member of trial team that obtained a jury trial victory for Illumina and Verinata Health in a patent infringement case brought against Ariosa Diagnostics regarding revolutionary non-invasive prenatal testing. The Northern District of California jury found that both Ariosa's old products and its new products infringed Illumina's intellectual property, awarded nearly $27 million in damages to Illumina, and awarded Ariosa nothing on its $100 million counter-claims. Subsequently assisted in securing Federal Circuit affirmation of the verdict.
Member of trial team that achieved a $12.5 million breach of contract verdict for a Silicon Valley technology start-up against multinational telecommunications equipment manufacturer that used the start-up's source code in its products without making the requisite payments.
Member of trial team that earned a $9.25 million patent infringement verdict for the surviving family members of a deceased inventor against leading international energy company involving automated synchronous price and advertising technology.
Secured a six-figure civil judgment in a breach of contract action for dozens of clients against a technology manufacturer and its proprietor that accepted payment and then failed to deliver cryptocurrency mining equipment.
In addition to his intellectual property practice, Mr. Lavin is deeply committed to pro bono work. He is an active contributor to the Innocence Project, work for which he has been positively recognized within the Firm. He was also a member of a trial team acting pro bono that secured a successful federal jury verdict on behalf of a client against a large international retail corporation. Furthermore, he has obtained a very favorable court resolution for a pro bono client in a contentious family law dispute.
Mr. Lavin earned his J.D. from the Boston University School of Law with Honors in Intellectual Property Law, where he a member of the Journal of Science & Technology Law and a research assistant in the area of intellectual property law to former Dean and Professor of Law Maureen O'Rourke. Mr. Lavin earned his B.A. in economics from the University of Rochester with Honors.
* Includes matters prior to joining Weil
Firm News & Announcements
Firm News & Announcements