Biography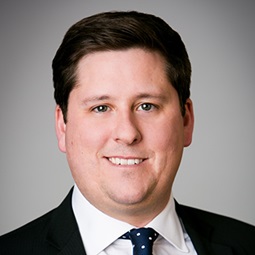 Chris Abbott is counsel in Weil's Antitrust Practice Group. He has broad enforcement, litigation, and transactional experience in both government and private practice, including seminal government merger challenges and some of the largest industry-wide price-fixing class actions ever filed.
Chris has played lead roles in all types of adversarial antitrust engagements, including private antitrust litigation in state and federal courts, civil and criminal government investigations involving the Department of Justice's Antitrust Division, the Federal Trade Commission, and state attorneys' general, and navigating regulatory approval of complex mergers and acquisitions. Chris also advises companies and their compliance, legal, and management teams on day-to-day business decisions, antitrust compliance programs, and risk assessments related to pricing, customer and vendor relationships, restrictive covenants and non-competes, competitor collaborations, mergers and acquisitions, and overall strategic direction, among many other issues. He has worked on matters across a wide range of industries, including agriculture, chemicals, supermarkets, pharmaceuticals, medical devices, and retail. Clients value his practical approach and his ability to distil complex issues into actionable business advice.
Litigation and Investigations – Representative Matters
In re Broiler Chicken Antitrust Litigation, No. 1:16-cv-08637 (N.D. III.) - Representing Pilgrim's Pride, one of the largest chicken producers in the United States, in federal class actions and direct action litigations brought by direct and indirect purchasers alleging the major chicken producers conspired to reduce output of and fix prices for chicken products.
In re Broiler Chicken Grower Antitrust Litigation, MDL No. 2977 (E.D. Okla.) - Representing Pilgrim's Pride in a consolidated multidistrict antitrust class action alleging poultry producers illegally conspired through information-sharing and "no poach" agreements to depress grower pay in violation of the Sherman and Packers & Stockyards Acts.
Jien v. Perdue Farms, No. 1:19-CV-2521 (D. Md.) - Representing Pilgrim's Pride in a federal class action alleging that poultry producers and others conspired to suppress wages and other compensation for poultry plant workers. Plaintiffs allege that Pilgrim's and others effectuated their alleged conspiracy through the use of industry benchmarking services and other information exchanges.
State of New Mexico v. Koch Foods, et al., No. D-101-CV-2020-01891 - Representing Pilgrim's Pride in an action in New Mexico state court brought by the Attorney General of New Mexico asserting claims under the New Mexico Antitrust Act and New Mexico Unfair Trade Practices Act, as well as a common law unjust enrichment claim.
State of Alaska vs. Agri Stats, Inc., et al., No. 3AN-21-04632CI - Representing Pilgrim's Pride in an action in Alaska state court by the Attorney General of Alaska bringing claims under the Alaska Restraint of Trade Act, the Alaska Unfair Trade Practices and Consumer Protection Act, and common law unjust enrichment.
Representing clients in criminal investigations before the Antitrust Division and civil antitrust investigations conducted by various state attorneys general.
Transactions and Counseling – Representative Matters
Representing Abbott Laboratories, a global, broad-based health care company, in its acquisition of Alere Inc., a global leader in point-of-care diagnostics, in a deal valued at approximately $5.3 billion. Weil obtained antitrust clearance, with only limited divestitures required, from the FTC.
Representing Chewy, an online pet retailer, in securing antitrust clearance for its $3.35 billion sale to PetSmart, Inc.
Representing Iron Mountain in its $2.6 billion acquisition of Recall Holdings, successfully securing regulatory approval from the U.S. Department of Justice.
Advising Nexeo Solutions, Inc. in the antitrust aspects of its $2 billion sale to Univar Inc.
Representing Sanofi on its $750 million acquisition of Protein Sciences, a privately held vaccines biotechnology company. The deal closed following significant engagement with the FTC.
Representing CoStar Group, owner of Apartments.com, in the antitrust aspects of its $385 million acquisition of online apartment rental platform ForRent.com.
Advising Dean Foods in its acquisition of Friendly's ice cream manufacturing and distribution business.
Representing Sanofi in its exchange of Sanofi's animal health business (Merial) with the consumer healthcare business of Boehringer Ingelheim.
Representing MovieTickets.com in its sale to Fandango, in a deal that joined together two major online movie-ticketing services. After receiving a civil investigative demand from the Department of Justice, the parties engaged with the Antitrust Division and successfully secured clearance of the deal.
Advising a leading agricultural company on antitrust aspects of a joint purchasing arrangement.
Advising a joint venture focused on information technology supply chain solutions on antitrust issues related to its dealings with existing and potential rivals of the joint venture members.
Prior to joining Weil, Chris served as an attorney at the Federal Trade Commission's Bureau of Competition, where he conducted numerous high-profile merger investigations and litigated multiple merger challenges in federal court and before the FTC's administrative law judge. He was an integral member of the FTC trial team that blocked the merger of Sysco and U.S. Foods, as well as the Phoebe Putney/Palmyra litigation team. His notable merger investigations include Office Depot/OfficeMax, Kroger/Harris Teeter, and Visant/American Achievement Corporation (class rings). Notably, Chris received the FTC's Janet D. Steiger Award for his contributions to the Phoebe Putney/Palmyra litigation team.
Chris has served on the Joint Conduct Committee of the American Bar Association's Section of Antitrust Law, and has repeatedly been a contributing editor to the ABA's Annual Review of Antitrust Law Developments. He received his J.D., summa cum laude, from Suffolk University Law School, where he was Editor-in-Chief of Suffolk Transnational Law Review and a member of the Foreign Direct Investment Moot team. He received his B.A. from American University.
Speaking Engagements, Latest Thinking, Firm News & Announcements
Demonstrating Agreement at the Summary Judgment Stage

Speaker(s): Christopher Abbott

November 2, 2021 — Chris moderated a panel discussion entitled "Demonstrating Agreement at the Summary Judgment Stage," sponsored by the Joint Conduct Committee of the Antitrust Section of the American Bar Association. Chris and a panel of other experienced litigators discussed what constitutes an agreement under the antitrust laws, the analysis of horizontal and vertical agreements, the summary judgment standard and circuit splits, and the use of economic evidence and experts when litigating agreement at summary judgment.

Joint Ventures

Speaker(s): Christopher Abbott

June 10, 2016 — Another in the series of "Joint Conduct 101" panel discussions hosted by the Joint Conduct Committee of the ABA, the panel focused on the antitrust issues raised when competitors enter into joint ventures. Topics included the antitrust analysis of different types of joint ventures, the Competitor Collaboration Guidelines issued by the FTC and DOJ, and issues related to corporate governance. Experienced antitrust practitioners discussed ways to counsel clients prior to the formation of a joint venture and strategies to ensure ongoing compliance with the antitrust laws.
Firm News & Announcements