Biography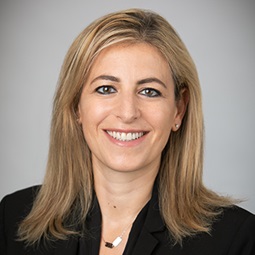 Caroline Geiger is a counsel in Weil's Technology & IP Transactions practice and is based in New York.
Caroline advises clients in matters relating to the licensing, acquisition, development, sale, use and commercial exploitation of intellectual property. She has experience in private equity, M&A, financing and other corporate transactions, as well as in stand-alone commercial and intellectual property transactions, including licensing arrangements, intellectual property acquisitions and divestitures, joint ventures, technology transfers, complex business carve-outs and manufacturing services, supply and distribution arrangements. Caroline has played a significant role on the teams advising General Electric and its subsidiaries in connection with the intellectual property aspects of its corporate transactions, including in GE's dispositions of GE Water and GE Industrial Solutions; GECC's dispositions of its commercial lending and leasing businesses, international fleet businesses, GE Railcar Services and tank car fleet assets and railcar repair facilities; GE's joint venture with Comcast for ownership of NBC Universal and Comcast's cable channels and regional sports network; and GE's overseas joint ventures. Caroline has also been active in the representation of L'Oréal and Sanofi in a variety of acquisitions, divestitures and licensing arrangements.
From April 2018 to April 2019, Caroline worked as an in-house legal consultant on loan to General Electric at their corporate headquarters in Boston, where she worked on the IP and technology aspects of GE's M&A transactions and provided IP counsel to GE's new business ventures.
Caroline previously served as Vice-Chair of the American Bar Association's Intellectual Property Section Committee on Licensing, Lending & Related Matters. She has received several awards in recognition of her pro bono work and serves on the Lincoln Center Counsel's Council and the Legal Advisory Council of Sanctuary for Families. In addition, Caroline was a leader of Weil's Disaster Assistance Team after Hurricane Sandy and co-led Weil's "Pay It Forward" initiative to support the work of HealthClass2.0. She is also an active alumnus of the Horace Mann School, Stanford University and the University of Virginia School of Law and is a member of Memorial Sloan-Kettering Cancer Center's Cycle for Survival leadership committee.
Caroline joined Weil as a summer associate in 2005. She received her J.D. from the University of Virginia School of Law, where she served as managing editor of the Virginia Sports & Entertainment Law Journal and was a member of the Senior Editorial Board of the Virginia Journal of Law and Technology, and her B.A. from Stanford University.
Firm News & Announcements
Firm News & Announcements