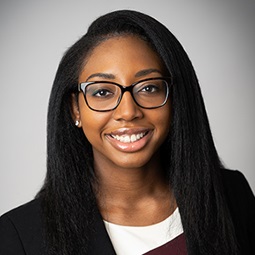 Candice Leanna Ellis is an associate in Weil's Securities Litigation practice, where she focuses on litigating complex corporate, securities, and M&A litigation in state and federal courts.
Candice's recent experience includes serving on Weil teams representing:
AMC Entertainment in earnings miss securities class actions and related shareholder derivative litigation in the Southern District of New York.
Churchill Capital Corp III, a SPAC sponsored by Churchill Capital Group, and certain directors in ongoing fiduciary duty and securities litigations in the Delaware Court of Chancery and the District Court for the Eastern District of New York relating to CCIII's $11 billion merger with MultiPlan, Inc.
A public company in connection with an SEC investigation.
An insurer in connection with evaluating potential litigation risks associated with certain corporate developments.
A private equity fund in securities class action litigation in Illinois federal court alleging misstatements in connection with a portfolio company's asset sale.
A public company in connection with evaluating potential liabilities arising out of an arbitration award against several subsidiaries.
Carlyle Group in a seminal business litigation in Delaware Chancery Court arising out of the triggering of a material adverse effects clause in a deal negotiation in the wake of the COVID-19 pandemic.
Signet Jewelers in a consolidated securities fraud class action in the Southern District of New York concerning alleged sexual harassment allegations that were raised in an employment arbitration, and purportedly lax credit standards.
Candice also maintains an active pro bono practice. Of late, she has been focusing extensively on matters involving family law, in collaboration with a number of local non-profit agencies. She earlier served as an intern at one of the leading non-profits active in this space, Lawyers for Children.
Candice received her B.A. from Brown University, where she earned the Frederick Lippitt Prize For Outstanding Public Service to Brown and the broader community, and her J.D. from Columbia Law School. During law school, she was awarded the Parker School Certificate for Achievement in International and Comparative Law, and served as a legal extern in the New York Attorney General's Consumer Frauds & Protection Bureau. Candice earned her M.S. in Economic Law from Institut d'Etudes Politiques de Paris (Sciences Po).