Biography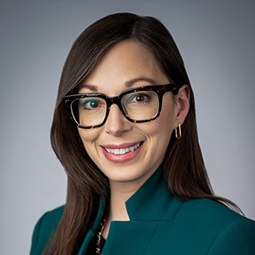 Cameron Mae Bonk is counsel in Weil's Complex Commercial Litigation practice, where she focuses on litigating antitrust, right of publicity, restructuring, and class action and multidistrict litigation matters, among others.
Cameron has experience in all stages of litigation, especially trial. On behalf of both plaintiffs and defendants, she has prepared for and played major roles in a number of jury trials in courts around the United States, as well as crafted mock trial exercises of varying structures. In the bankruptcy litigation area, Cameron's experience includes multiple adversary proceedings and contested matters, such as contract rejection and recharacterization disputes and litigation adverse to unsecured creditor committees. Cameron also has extensive experience in large-scale electronic discovery management in commercial litigation, class action, multidistrict litigation, and bankruptcy proceedings.
Cameron's notable experience includes serving on Weil teams that:
Advised clients regarding the financial and contractual impacts of the COVID-19 pandemic and the resulting cancellation of various televised live events. Aided in the negotiation of alternative contractual and broadcast schedule arrangements that minimized lost revenue and impact to valuable contractual rights and relationships.
Represent a national hospital-based physician group as plaintiff in multiple complex breach of contract suits to recover hundreds of millions of dollars in physician-services fees, and after a jury trial, secured a rare unjust enrichment award against a national health insurance company for underpayment of medical claims. The verdict has been recognized by industry publications as among the top 50 commercial litigation verdicts of 2019.

Defended a multinational pharmaceutical and cosmetics manufacturer in a months-long jury trial of four plaintiffs' products-liability, breach of warranty, and misrepresentation claims brought in state court in New Brunswick, New Jersey

.
Represents a major media and broadcasting company as an intervenor in a years-long series of lawsuits regarding NCAA amateurism rules and student-athlete compensation, and has successfully moved numerous times to keep a variety of highly proprietary information sealed in the Federal District Court as well as the Ninth Circuit Court of Appeals, both in court filings and at trial.
Represented DAK Americas LLC in the bankruptcy case of M&G, an international conglomerate of plastic manufacturing companies. Assisted in obtaining favorable settlement on the eve of trial, enabling ultimate court approval of an $800 million acquisition of a Corpus Christi, Texas manufacturing facility.
Represented Westinghouse Electric Company, and its affiliates, a globally recognized nuclear power company, in its unprecedented chapter 11 bankruptcy cases involving liabilities in excess of $9 billion, including in the defense of claims brought by the unsecured creditors committee and multiple individual creditors.
Represents Bridgestone Corporation in a civil class action lawsuit filed on behalf of two classes of purchasers against the manufacturers of automotive anti-vibrational rubber parts ("AVRP"), which plaintiffs claim were subject to inflated pricing as a result of alleged bid-rigging by Bridgestone and its co-defendants in the sale of AVRP to automobile manufacturers.
Represented various creditors and debtors in connection with bankruptcy proceedings, out-of-court restructurings, and related litigation, including Breitburn Energy Partners LP, Angelica Corporation, and Tidewater Inc.
Represented CBS Interactive Inc. in defeating a civil suit brought by a putative nationwide class of NCAA student athletes who alleged right of publicity claims in connection with their photographs being made available for sale on universities' athletic department websites. Won summary judgment, denial of class certification, and post judgment defense fees and costs. See Lightbourne v. Printroom, Inc., CBS Interactive, et al., 2015 WL 4940619 (C.D. Cal. August 14, 2015), 307 F.R.D. 593 (C.D. Cal. 2015).
Represented CBS Broadcasting, Inc. at both the trial court and appellate court levels in achieving dismissal with prejudice of a putative nationwide right of publicity and antitrust class action regarding names, images and likenesses of student athletes in college football and basketball broadcasts. Javon Marshall, et al. v. ESPN, Inc., CBS Broadcasting, Inc., et al. 668 Fed. Appx. 155 (6th Cir. 2016) aff'g 2015 WL 3537053 (M.D. Tenn. June 4, 2015).
Cameron is a regular guest lecturer at the University of Miami School of Law on topics related to student-athlete name, image, and likeness rights, antitrust law in the collegiate athletics context, and NCAA rules related to amateurism. Cameron has also served as a judge for law student negotiation competitions simulating NFL player contract negotiations between sports agents and teams and as a judge for the University of California, Berkeley School of Law's highly esteemed James Patterson McBaine Honors Moot Court Appellate Competition.
Prior to joining Weil, Cameron was an intern at the U.S. Department of Justice, Antitrust Division. She received her J.D. from the University of California, Berkeley School of Law where she was a teaching assistant for both the L.L.M. program and the legal research and writing program, as well as the Executive Editor of the Berkeley Journal of Employment and Labor Law. Cameron received her B.A., magna cum laude, from the University of Washington, where she majored in Law, Societies & Justice, with Honors.
Latest Thinking, Firm News & Announcements
Firm News & Announcements