Biography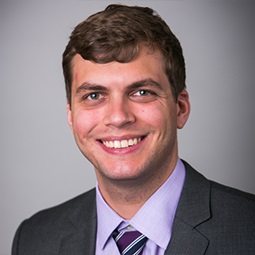 Caleb Small is an associate in Weil's Patent Litigation practice and is based in New York.
Previously, Caleb was an associate in Weil's Technology & IP Transaction practice, where he focused on advising clients in matters relating to the licensing, acquisition, development, sale, use and commercial exploitation of technology and intellectual property.
As a TIPT associate, Caleb was part of the teams advising:
Aleph Capital and Crestview Partners in their investment in Framestore and Framestore's merger with Company 3 and Method following Company 3 and Method's carve-out from Deluxe Entertainment Services Group
The Apax Digital Fund, as lead investor, in a Series D funding round for Guesty, Inc.
Austerlitz Acquisition Corporation I, a SPAC sponsored by Austerlitz Acquisition Sponsor, LP I, an affiliate of Trasimene Capital Management, LLC, in its $3.2 billion business combination with Wynn Interactive, Ltd.
Benefytt Technologies, Inc. in its $625 million take-private by Madison Dearborn Partners
Berkshire Partners in its majority recapitalization of National Carwash Solutions Inc. (a portfolio company of AEA Investors)
The Blackstone Group in the acquisition by Blackstone Tactical Opportunities of Concert Golf Partners
Campbell Soup Company in its $2.2 billion sale of Campbell International, Inc. and its $300 million sale of Kelsen Group A/S 
Eli Lilly and Company in its $1.1 billion acquisition of Dermira, Inc. and its acquisition of Loxo Oncology, Inc.; its global licensing and research collaborations with, and equity investments in, Precision BioSciences, Inc., Dicerna Pharmaceuticals, Inc., Sitryx Therapeutics Limited and Avidity Biosciences LLC; an up to $998 million license agreement to acquire the exclusive worldwide rights for CNTX-0290; and its global licensing and research collaboration with an affiliate of ImmuNext Inc.
GI Partners in its acquisition of Vast Broadband
Gores Holdings III, Inc., a SPAC sponsored by an affiliate of The Gores Group, in its $1.55 billion business combination with Pacific Architects and Engineers, Inc. (PAE) (a portfolio company of Platinum Equity)
Healthcare Merger Corp., a SPAC sponsored principally by Shulman Ventures and MTS Health Partners, in its merger with SOC Telemed in a transaction that implies an initial enterprise value of $720 million
Insys Therapeutics, Inc. in its asset sale transactions with Benuvia Therapeutics Inc. (formerly known as Chilion Group Holdings US, Inc.), BTcP Pharma, LLC, Hikma Pharmaceuticals USA Inc., Pharmbio Korea, Inc. and Renaissance Lakewood, LLC and in connection with other strategic matters
Magellan Health, Inc. in its $2.2 billion merger with Centene Corporation
Mudrick Capital Acquisition Corporation, a SPAC sponsored by Mudrick Capital, in its acquisition of substantially all of the assets of Hycroft Mining Corporation, with an initial enterprise value of approximately $537 million
Mudrick Capital Acquisition Corporation II, a SPAC sponsored by Mudrick Capital, in its pending $1.3 billion business combination with The Topps Company, Inc.
Providence Strategic Growth in its acquisitions of SchoolStatus LLC, a majority stake in Dental Intelligence, Inc. and, together with Blue Star Innovation Partners, of PatientNOW
Quest Diagnostics Inc. in its acquisition via a 363 asset sale of certain assets of True Health Diagnostics and its parent, THG Holdings
Sanofi in its $2.5 billion acquisition of Synthorx, Inc.; its up to $1.45 billion acquisition of Kymab, Ltd.; its up to $470 million acquisition of Tidal Therapeutics, Inc.; and its $350 million sale of its Seprafilm Adhesion Barrier and related assets to Baxter International Inc.
Caleb received his J.D. from Emory University and his B.S. from Yale University.
Firm News & Announcements
Firm News & Announcements