Biography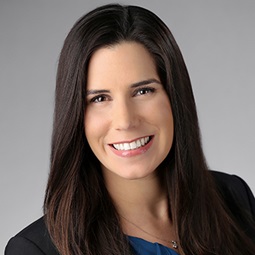 Caitlin Steiger is counsel in Weil's Real Estate practice and is based in Miami. Caitlin participates in the representation of Firm clients with respect to a variety of commercial real estate transactions, including the sale, acquisition, development and financing of various types of commercial real estate properties.
Caitlin has played a significant role on the teams advising:
Angelica Corporation in its $150 million 363 bankruptcy sale of substantially all of its assets as a going concern to an affiliate of KKR & Co.

Apollo Infrastructure in its acquisition of Lendlease (US) Telecom Holdings LLC (n/k/a Parallel Infrastructure).

Arca Continental, S. A. B. de C.V. in its acquisition, via a $2.7 billion joint venture with Coca-Cola Refreshments USA, Inc. becoming the Coca-Cola Company's sole franchise bottler in the area formerly known as the Southwest operating unit of Coca-Cola Refreshments.

Brookfield Asset Management Inc. in its $11.4 billion acquisition of Forest City Realty Trust Inc. (n/k/a Brookfield Properties), which was the largest M&A real estate transaction of 2018.

Central Grocers, Inc. in its 363 bankruptcy sale of 20 Strack & Van Til stores as going concerns and certain other assets to Indiana Grocery Group.

Giant Eagle, Inc. in its acquisition of Ricker Oil Company, Inc.

Lee Equity Partners in its acquisition of K-MAC Holdings Corp.

MGM Resorts International (MGM Resorts) in the formation of a joint venture between MGM Growth Properties LLC and Blackstone Real Estate Income Trust to acquire the Las Vegas real estate assets of the MGM Grand and Mandalay Bay for $4.6 billion and to lease back these assets to subsidiaries of MGM Resorts and the related $3 billion CMBS financing to support the acquisition by the joint venture.
Monarch Alternative Capital, as lender, in a $100 million debtor-in-possession loan to Eagle Hospitality Group to finance business operations during Eagle's chapter 11 bankruptcy proceedings, and the purchase of a portfolio containing the majority of Eagle's hotels.
SGS SA in its $335 million sale of Petroleum Service Corporation.

Southeastern Grocers, LLC in its $522 million exchange of unsecured note debt for 100% of its equity, as part of a $1.3 billion prepackaged chapter 11 restructuring that also included payment in full of its secured debt and of unsecured claims by supplier partners, contract counterparties and all other trade creditors, and $1.125 billion in exit financing.
Caitlin is recognized as a 2021 Florida "Rising Star" for Real Estate by Super Lawyers.
Caitlin is a member of the Board of Advisors for the Center for Jewish Studies at the University of North Carolina.
Caitlin received her J.D. from the University of Washington School of Law, where she was Champion of the 1L Contract Negotiation Competition, President of the Jewish Law Student Association and a member of the Board of Directors of Hillel. She received her B.A. from the University of North Carolina at Chapel Hill, where she was a Robertson Scholar. Caitlin is a member of the Board of Advisors for the Center for Jewish Studies at the University of North Carolina.
Awards and Recognition, Firm News & Announcements
Caitlin Steiger Recognized as a Florida "Rising Star" for Real Estate

Award Brief — Super Lawyers
Firm News & Announcements