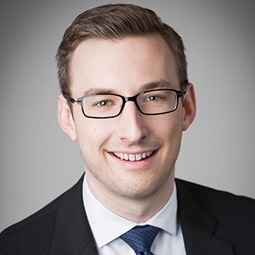 Bryan Podzius is an associate in the Restructuring Department of Weil's New York office.
Prior to joining Weil, Bryan served as law clerk to the Honorable Kevin R. Huennekens of the United States Bankruptcy Court for the Eastern District of Virginia.
Bryan received his J.D. from the University of Virginia School of Law where he was a Senior Editor of the Virginia Tax Review. He received his undergraduate degree in Political Science from Cal Poly — San Luis Obispo.
Bryan has played a role on a number of teams advising:
Debtor/Company-Side Experience:
A sporting goods manufacturer and distributor in connection with liability management initiatives.
Skillsoft Corporation and its affiliated debtors, a global leader in corporate learning, in their prepackaged chapter 11 cases with liabilities in excess of $2 billion.
Waypoint Holdings Ltd., a global helicopter leasing company, in its chapter 11 cases.
Sears Holdings Corporation and its affiliated debtors, one of the largest retailers in the world and its chapter 11 cases represent one of the largest retail chapter 11 cases in history. At the time of commencing these cases, Sears had more than 68,000 employees and approximately $6 billion in debt.
Takata Corporation, a Japan-based automotive parts supplier subject to massive mass tort liabilities and other creditor claims, in its global restructuring, including the chapter 11 cases of its U.S. and Mexican entities and the ultimate $1.6 billion sale to Key Safety Systems.
J.Crew Group, Inc., one of the nation's premier clothing retailers with approximately $2 billion in funded debt, in its restructuring efforts. This restructuring resulted in approximately 80% of the common stock to be held by the existing equity sponsor while conducting an out-of-court exchange for more than the $500 million of holding company debt.
Creditor/Acquiror/Other Experience:
Hayfin Services, LLP, as administrative agent, noteholder representative, collateral agent, and DIP agent, and Midava Holdings 3, Inc., as stalking horse purchaser in the chapter 11 cases of Avadim Health, Inc., a healthcare and wellness company, which develops, manufactures, and markets topical products for institutional care and consumer markets.
DIP lender, First Lien Lender, and Stalking Horse Bidder in the chapter 11 cases of Tamarac 10200, LLC and Unipharma, LLC, manufacturer of OTC and nutraceutical products.
Citibank as DIP Agent and Prepetition Revolver and Term Loan Agent in connection with the chapter 11 cases of Global Eagle Entertainment Inc., a provider of media and satellite-based connectivity solutions worldwide
Apollo Global Asset Management in the chapter 11 cases of LATAM Airlines Group S.A., Latin America's leading airline group.
Talen Energy Marketing, LLC and Talen Energy Supply, LLC as second lien lenders in the chapter 11 cases of NorthEast Gas Generation, an owner and operator of electricity generation plants.
ICBC Standard Bank, prepetition intermediation facility provider to Philadelphia Energy Solutions (PES) Holdings, LLC, in the PES chapter 11 cases.
Term Loan Agent, DIP Term Loan Agent and Term Loan Lenders in the chapter 11 cases of Bumble Bee Parent, Inc., and its affiliated debtors, a major North American packaged foods company, including as back-up credit bidder in the company's section 363 sale process.
Centerbridge Capital Partners and its affiliates, as sponsor, in the chapter 11 cases of CraftWorks Parent, LLC and its subsidiaries, a restaurant and brewery operator under names such as Logan's Roadhouse, Old Chicago, Rock Bottom, and Gordon Biersch