Achieving critical litigation victories requires not only great skill but also perseverance, ingenuity and adaptation to changing circumstances and client needs. This year, once again, we take pride in the achievements of attorneys across all of our global litigation practices, who exhibited the tenacity and creativity that our clients expect as we partner with them to tackle their most complex business disputes.
We likewise strive to improve and adapt our communication of these achievements. On the occasion of our thirteenth annual Litigation Wins Report, we have introduced this digital companion microsite that provides additional perspective on Weil's litigation expertise and successes, and allows for more granular review by date, team members, industries, and nature of victory. We encourage you to visit often, as we will continually update the microsite to reflect new developments.
Jonathan Polkes and David Lender
Global Co-Chairs, Litigation Department
Read more about Weil's litigation capabilities and how they cover the broad range of our clients' needs.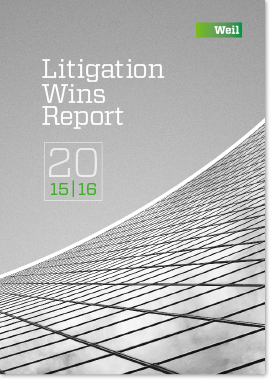 View Weil's Litigation Wins Report from 2015/16
Request a hard copy of Weil's Litigation Wins Report 2015/16.
View previous editions of Weil's Litigation Wins Report:
Clients note "There's nothing they cannot do…They give you expertise from creative angles and create strong arguments."

Chambers USA
Weil's Litigation Department has "a very deep bench in which all lawyers are meticulous, smart, careful, practical, energetic and tenacious."

Legal 500 US
Weil "constructs attorney teams on a national level that provide highly tailored advice. The result is a premier level of service that very few firms can match."

Legal 500 US
Clients highlight Weil's "total substantive expertise – they know the law in whatever area you're focused on, backwards and forwards, up and down, inside and out."

Chambers USA
Weil "is the epitome of the 'bet the farm' litigation firm... 'They are extremely thorough and will leave no rock unturned.'"

Legal 500 US