March 16, 2017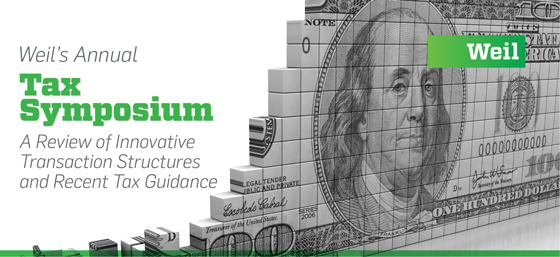 March 16, 2017
Weil, Gotshal & Manges LLP
767 Fifth Avenue, New York City
On Thursday, March 16, 2017, Weil's Tax, Executive Compensation & Benefits Department will host its annual Tax Symposium, a review of innovative transaction structures and recent tax guidance. The event will feature experts in the tax, compensation and business sectors, including from Weil, Evercore, Citigroup and Ernst & Young.
Click here to download a full agenda.
Keynote Address
Roger C. Altman, Founder and Senior Chairman, Evercore
Panel 1: Profits Interests in Private Equity: Cash and Carry
Panelists will discuss the use of "profits interests" to compensate fund managers and portfolio company management, including proposed fee waiver rules, use of "catch-up" distributions and deferred capital contributions to achieve parity with other forms of portfolio company management incentive equity compensation.
Panel 2: Tax Issues Working With SPACs
Panelists will briefly discuss the history of SPACs and the evolution of SPAC capital structures and consider interesting tax issues that can arise in the use of domestic and foreign SPACs, including PFIC and domestication issues that may arise in connection with the use of foreign SPACs. Panelists will also analyze recent interesting deals, including the use of SPACs in Up-C structures.
Panel 3: Hot Spin-Off Topics: Recent Developments under Section 355
Panelists will discuss recent developments in the tax-free spin-off area, including recently proposed regulations regarding the active trade or business and device requirements, the temporary regulations addressing predecessor rules under the anti-Morris Trust rules of Section 355(e), and other recent formal and informal pronouncements from the IRS.
RSVP is by invitation only. Please e-mail taxsymposium@weil.com for further information or questions.