October 21, 2015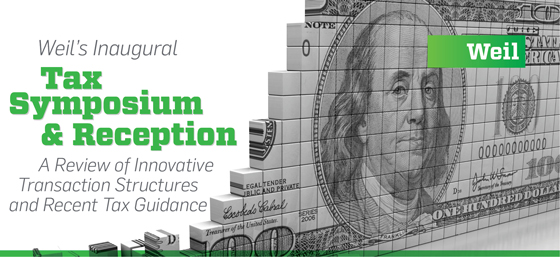 December 2, 2015
Weil, Gotshal & Manges LLP
767 Fifth Avenue, New York City
On Wednesday, December 2, 2015, Weil's Tax, Executive Compensation & Benefits Department will host its inaugural Tax Symposium & Reception, a review of innovative transaction structures and recent tax guidance. The event will feature experts in the tax, compensation and business sectors, including from Weil, JPMorgan Chase & Co. and PJT Partners Inc.
Click here to download a full agenda.
Keynote Address
Paul J. Taubman, Founder and CEO, PJT Partners Inc.
Panel 1: REIT Conversions
Panelists will discuss recent REIT conversion transactions, including their structures and objectives. They will also discuss recent IRS guidance and possible implications on the market going forward.
Panel 2: "Up-C" IPO Structures – Tax Considerations
Panelists will discuss the tax considerations that are relevant to structuring "Up-C" IPOs, in which a business historically conducted in pass-through form will access the public equity markets using structures that provide the historic owners with tax efficient liquidity.
Panel 3: Anti-Inversion Rules: Tightening the Vise
Panelists will walk through the history of the government's attack on inversions, which has taken the form of tightening the rules incrementally over the years. They will discuss specific examples and will cover the taxation of U.S. shareholders of an inverted domestic company.
Panel 4: Executive Compensation M&A Trends: "Contingent Consideration"
Panelists will discuss the growing trend of imposing vesting conditions on sales proceeds payable to employee stockholders in mergers and acquisitions, in both public and private transactions. Panelists will discuss the various structures being used and related tax issues, including capital gain vs. ordinary income treatment, deferred compensation restrictions, parachute tax implications and tax reporting considerations.
RSVP is by invitation only. Please e-mail taxsymposium@weil.com for further information or questions.