November 16, 2017
International law firm Weil, Gotshal & Manges today announced that Anthea Bamford will join the Firm as a partner in London focusing on real estate as part of the Firm's Real Assets practice, as well as supporting the wider office on real estate aspects of private equity transactions, structured finance and restructurings.
Anthea is currently a partner at Berwin Leighton Paisner in London. She has advised on a wide range of real estate transactions, including direct and indirect real estate investment, joint ventures and real estate development projects. Clients have included private equity funds, sovereign wealth and pension funds, developers and family offices across the office, retail, hotels, and logistics sectors.
Weil Executive Partner Barry Wolf said: "With a number of our funds clients pursuing a real estate strategy and direct investors looking at UK real estate investments, Anthea will be an excellent addition to our growing Real Assets practice."
Weil London Managing Partner Mike Francies said: "We are pleased Anthea is joining the Firm at a time when we are building momentum with our Real Assets practice, following the hire of James MacArthur and Paul Hibbert. Her expertise will supplement our full service offering for real assets clients covering corporate, funds, financing and real estate."
About Weil
Founded in 1931, Weil, Gotshal & Manges LLP has been a preeminent provider of legal services for more than 80 years. With approximately 1,100 lawyers in offices on three continents, Weil has been a pioneer in establishing a geographic footprint that has allowed the Firm to partner with clients wherever they do business. The Firm's four departments, Corporate, Litigation, Business Finance & Restructuring, and Tax, Executive Compensation & Benefits, and more than two dozen practice groups are consistently recognized as leaders in their respective fields.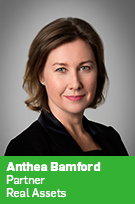 ---
Media Inquiries
Weil Public Relations
Chief Business Development & Communications Officer