July 20, 2012
International law firm Weil, Gotshal & Manges today announced that
Alex Wood
from Hogan Lovells will join as a partner in the London Restructuring practice.
Alex is experienced in all aspects of business restructuring and insolvency, and focuses on complex insolvency work and financial services (including insurance) insolvency and restructuring. He has particular expertise in the design and implementation of complex schemes of arrangement, cross-border restructurings and formal insolvency procedures. Chambers UK singles out Alex as having "the rare ability to grasp detailed technical concepts and adapt his advice accordingly."
Mike Francies, Weil's London Managing Partner, commented, "The continued expansion of Weil's Restructuring practice in London is a key element of the Firm and the London office's strategy. Following the hiring of partners Adam Plainer and Paul Bromfield, and Linton Bloomberg as counsel last year, together with 10 associates, we are pleased with the significant progress made with the build-out of the team. With Alex joining, we have additional resources to further capitalise on opportunities in the U.K. and international market."
Adam Plainer, Head of the London Restructuring practice said "Alex is a fantastic hire. He is a well-regarded restructuring and insolvency lawyer, and his broad expertise, especially in financial institutions restructuring, perfectly complements the focus of our practice. He will be an invaluable addition to the team as we continue to increase the amount of U.K.-generated restructuring, insolvency and distressed portfolio work, and work closely with our U.S. and European colleagues on major restructurings."
Barry Wolf, Weil's Global Managing Partner said "Weil has a pre-eminent global restructuring practice which is hugely respected in the market. The firm has acted on and continues to act on some of the highest profile jobs around the world and we are delighted Alex is joining the highly impressive London restructuring team. The firm is focused on expanding the London restructuring practice as it continues to strengthen an already very strong platform."
This recruitment comes at a time when the Restructuring practice is working on a number of high-profile mandates, including advising KPMG as special administrators of MF Global UK, the first Special Administration under the new regime and the largest European collapse since Lehman Brothers. The global Restructuring group was recently highly ranked in PLC's Which Lawyer?'s Restructuring and Insolvency Super League 2012, and was also recognised as 2012 Global Restructuring Law Firm of the Year by the Turnaround Atlas Awards.
This news was reported on by the following news organizations (may require registration/subscription):
The Lawyer: Weil adds further City restructuring partner with Hogan Lovells hire (July 23, 2012)
Legal Week: Weil signs up Hogan Lovells partner for London restructuring team (July 23, 2012)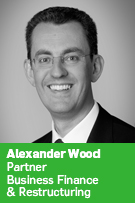 ---
Media Inquiries
Weil Public Relations
Director of Communications