July 11, 2016
International law firm Weil, Gotshal & Manges LLP announced today that Sarah Downie has joined the Firm as a partner in the Executive Compensation & Benefits practice. She is based in Weil's New York office.
Weil Executive Partner Barry Wolf said: "Sarah is a great addition to our Executive Compensation & Benefits practice. Her broad-based experience across a range of corporate transactions coupled with her specialized knowledge in the Private Funds area makes her a perfect fit for Weil. We are delighted to welcome her."
Paul Wessel, head of Weil's Executive Compensation & Benefits practice, commented: "I've known Sarah for a number of years and she brings to Weil an impressive track record as well as a reputation for excellence in our area. Our Private Funds practice will particularly benefit from her expertise in ERISA's regulation of pension plan investments. Sarah's broad-based experience in compensation and benefits law will also add important depth to our practice, which is a growing area of need for the Firm's clients. Together with our partners Michael Nissan and Amy Rubin and a talented group of counsel and associates, we feel that Sarah's addition will really round a practice that provides a full range of service in the compensation and benefits area."
Ms. Downie joins Weil from the New York office of Hughes, Hubbard & Reed LLP, where she was a partner and co-chair of the Employee Benefits and Executive Compensation practice. She currently serves as Chair of the New York City Bar Association's Employee Benefits & Executive Compensation Committee. Ms. Downie has extensive experience in the executive compensation and employee benefits aspects of mergers, acquisitions and financings. She also represents clients on matters involving equity and incentive compensation, employment and severance agreements, and change in control arrangements. Ms. Downie is known nationally for her experience advising clients on pension plan investments and compliance with ERISA's fiduciary requirements and prohibited transaction rules.
"I am delighted to be joining Weil and working with its top-notch lawyers around the world. The Firm's market-leading corporate transactional and private funds practices provide a great platform for me to contribute my expertise here in New York and globally," said Ms. Downie.
About Weil's Executive Compensation & Benefits Practice
Weil's Executive Compensation & Benefits lawyers are strategically located in the United States, United Kingdom and Germany. Our lawyers work in close coordination with the Firm's perennially top-ranked M&A, Private Equity, Private Funds, and Business Finance & Restructuring practices to advise global clients on the legal issues associated with compensation and benefit arrangements that arise in these commercial matters. Our lawyers also work closely with the Firm's Corporate Department to advise public and private companies, as well as their boards of directors and compensation committees, on matters involving compensation and employee benefits. The Firm advises companies, boards, compensation committees and senior executives on employment and compensation arrangements, including for employment, separation, retention, cash incentives, equity incentives, deferred compensation, golden parachutes, and pension and retirement. Weil also regularly counsels clients in connection with ERISA, pension investments and fiduciary matters; equity and incentive compensation plans; nonqualified pension plans; and employment, severance, and change-in-control agreements. Our lawyers frequently appear on behalf of clients before regulatory agencies such as the IRS, Pension Benefit Guaranty Corporation, and Department of Labor.
About Weil
Founded in 1931, Weil, Gotshal & Manges LLP has been a preeminent provider of legal services for more than 80 years. With approximately 1,100 lawyers in offices on three continents, Weil has been a pioneer in establishing a geographic footprint that has allowed the Firm to partner with clients wherever they do business. The Firm's four departments, Corporate, Litigation, Business Finance & Restructuring, and Tax, Executive Compensation & Benefits, and more than two dozen practice groups are consistently recognized as leaders in their respective fields.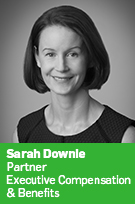 ---
Media Inquiries
Weil Public Relations
Chief Business Development & Communications Officer