August 03, 2015
International law firm Weil, Gotshal & Manges LLP is pleased to announce that Matt Barr has joined the Firm's New York office as a partner to play an active leadership role in its market-leading global Business Finance & Restructuring Practice. Mr. Barr has extensive experience representing debtors, secured and unsecured creditors, bondholders, ad hoc groups, private equity funds, acquirers of assets, and major stakeholders in chapter 11 reorganization cases and out-of-court restructurings both in the United States and internationally.
"Matt's experience advising on matters across a wide array of industries and track record of offering clients practical solutions strengthens our world-renowned bankruptcy practice," said Weil Executive Partner Barry Wolf. Mr. Wolf added: "Matt's prior experience representing companies is extremely impressive and his prior creditor representations enhances an area we are committed to grow."
Gary Holtzer commented: "Marcia Goldstein and I, as Co-Heads of Weil's Business Finance & Restructuring Practice, are excited to have Matt join us. His expertise will further strengthen our ability to provide clients with the best possible legal advice and service."
Mr. Barr joins Weil from the New York office of Milbank, Tweed, Hadley & McCloy where he was a partner. He has received accolades as a top practitioner from an array of publications covering the profession, including Chambers Global, Chambers USA, Legal 500, Turnarounds & Workouts and Super Lawyers.
"I am extremely excited about joining Weil's preeminent practice made up of so many outstanding practitioners; and joining a platform that will offer me the opportunity to represent companies, creditors and other major stakeholders," said Mr. Barr.
About Weil's Business Finance & Restructuring Practice

Weil, a leading business finance and restructuring firm in the world, not only invented much of what is standard today, but has also been involved in almost every type of consensual and litigated restructuring transaction in the United States since the 1970s. Weil has served as chief debtors' counsel in five of the six largest U.S. bankruptcy filings in history and has represented clients in numerous complicated international insolvencies. Our experience extends to representing companies and creditors in exchange offers, debt for equity swaps, pre-packaged and pre-arranged chapter 11 cases, as well as conventional chapter 11 reorganizations.
About Weil

Founded in 1931, Weil, Gotshal & Manges LLP has been a preeminent provider of legal services for more than 80 years. With approximately 1100 lawyers in offices on three continents, Weil has been a pioneer in establishing a geographic footprint that has allowed the Firm to partner with clients wherever they do business. The Firm's four departments, Corporate, Litigation, Business Finance & Restructuring, and Tax, Executive Compensation & Benefits, and more than two dozen practice groups are consistently recognized as leaders in their respective fields. Please see www.weil.com for more information, including awards and rankings.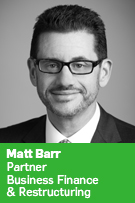 ---
Media Inquiries
Weil Public Relations
Chief Business Development & Communications Officer