Biography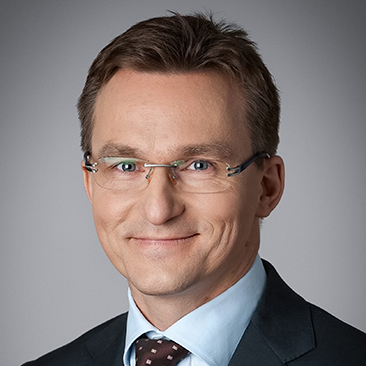 Rafal Zwierz is a legal advisor admitted to practice in Poland, a US-qualified attorney, a UK-qualified solicitor and a partner in Weil's corporate department.
Rafal graduated, with distinction, from the Faculty of Law and Administration of the University of Warsaw in 1998. After winning a Fulbright Scholarship, in 2000 he graduated from Harvard University with an LL.M. degree. In that same year he was admitted to the Bar Association of the State of New York and in 2003 was admitted as a solicitor of the British Supreme Court. He was admitted to practice in Poland as a legal advisor in 2004.
After joining Weil in 2000, Rafal spent a year at Weil's New York office and one and a half years at the London office, before transferring to the Warsaw office in 2003. He has represented issuers and underwriters in multi-jurisdictional public and private equity offerings, including offerings under Rule 144A and Regulation S. He has also advised on M&A transactions and financial restructurings.
His recent experience includes:
Polski Holding Nieruchomosci (PHN) in its $76.8 million initial public offering and introduction to trading on the Warsaw Stock Exchange.
Bank Gospodarstwa Krajowego (BGK) in the $1.7 billion sale of 12.25% of the shares in PKO Bank Polski by BGK and the Polish Ministry of the State Treasury by way of an accelerated bookbuilding offering to domestic and international institutional investors.
CEZ and its subsidiary, CEZ Poland Distribution, in the acquisition of 67% of the shares in Eco-Wind Construction.
Petrolinvest in the signing of a preliminary investment agreement regarding its acquisition of 50.1% of shares in Swiss Petroleum Investments Holding.
Petrolinvest in its acquisition of an additional 20% stake in Silurian Hallwood and an additional 30% stake in Silurian Energy Services for $16.1 million and $21.1 million, respectively, in non-cash deals.
Petrolinvest in its acquisition of a 40% stake in Eco Energy 2010 and Eco Energy 2010 from Masashi Holdings.
The Ministry of State Treasury of Poland, acting as a selling shareholder, in the initial public offering of Bank Gospodarki Zywnosciowej.
Petrolinvest in its $45 million offering of convertible bonds and/or subscription warrants exercisable at the request of the investors participating in the issue program.
Mennica Polska in its proposed $92 million tender offer for 54.95% of the shares in Ruch.
Goldman Sachs International and UniCredit CAIB Poland in the initial public offering of PGE Polska Grupa Energetyczna S.A., the biggest energy group in Poland, on the Warsaw Stock Exchange. This was the largest IPO in Europe in 2009.
Optimus in its $23 million acquisition of the CDP group.
CCMP Capital Advisors and Bancroft Private Equity in the $356 million sale of Nowaco Czech Republic and FARUTEX to The Bidvest Group.
Polskie Gornictwo Naftowe i Gazownictwo (PGNiG) in the negotiations and signing of an approximately $11 billion long-term purchase agreement for liquefied natural gas with Qatargas.
Tomasz Morawski, the founder and a minority shareholder of Sfinks Polska, in the indirect acquisition by OrsNet of all shares in Sfinks owned by AmRest.
Goldman Sachs International, Morgan Stanley & Co. International, JPMorgan Cazenove and UniCredit Markets & Investment Banking in the €1.4 billion initial public offering of New World Resources.
UniCredit CAIB Polska and Bank Austria Creditanstalt in the approximately €72 million initial public offering of 46 million shares of residential developer Ronson Europe.
PKN ORLEN in its $2.3 billion acquisition of AB Mazeikiu Nafta from Yukos International UK.
Credit Suisse First Boston (Europe) in the PLN 456 million initial public offering of Opoczno.
Abris in the initial public offering of shares in Prime Car Management S.A.
Europejskie Centrum Inwestycyjne in the planned acquisition of the majority stake in Polski Holding Nieruchomosci S.A. from the State Treasury.
Plaza Centers N.V. – restructuring.
For many years Rafal Zwierz has been recognised by international legal rankings such as Chambers & Partners, The Legal 500, IFLR1000, PLC Which Lawyer? and Best Lawyers, as one of the leading lawyers in Poland for equity capital markets, corporate and M&A and private equity.
The prestigious legal ranking publication Chambers & Partners ranked Rafal since 2008 as one of the best specialists in capital markets in Poland. According to the most recent report, "Rafal Zwierz receives positive feedback, with sources highlighting his client care and extensive knowledge. He is Polish, US and UK-qualified."
Rafal is fluent in English.
Awards and Recognition, Speaking Engagements, Guides and Resources, Latest Thinking, Firm News & Announcements
Rafal Zwierz named "Leading" Lawyer for Capital Markets: Equity in Poland

Award Brief — Chambers Europe 2012
Firm News & Announcements