Biography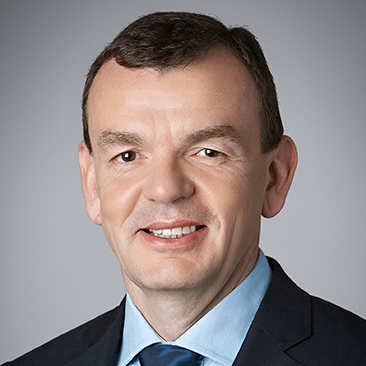 Pawel Rymarz is a legal advisor admitted to practice in Poland and has been the managing partner of the Warsaw office of Weil since 1998.
He graduated from the Faculty of Law and Administration of the University of Warsaw in 1985, qualified as a legal advisor in 1992 and joined Weil in 1993. Pawel has become widely recognised as an outstanding specialist in corporate law and in M&A and capital markets transactions. He has advised on the largest acquisitions and privatisations in Poland, on numerous domestic and international public offerings of securities and private equity transactions, and on the restructuring of many leading Polish capital groups.
His recent experience includes:
Montagu Private Equity in its sale of a 100% stake in EmiTel to funds managed by Alinda Capital Partners.
Kardan and its subsidiary, Globe Trade Centre in the indirect sale by the wholly owned subsidiary of Kardan, GTC Real Estate Holding, of 27.75% of the shares in Globe Trade Centre to Lone Star Funds.
Innova Capital and Grupa o2 in the acquisition by Grupa o2 of Wirtualna Polska.
Neuca in its $137 million acquisition in a consortium with BRL Center Polska of ACP Pharma.
ITI Group in its disposal, along with AREA Property Partners, of 100% shares in Multikino to Vue Entertainment.
Bank Zachodni WBK, Banco Santander and KBC Bank in the largest ever marketed at the time secondary public offering of a Polish company listed on the Warsaw Stock Exchange.
Advent International in the acquisition of a majority stake in EKO Holding, the disposal of non-core assets and subsequent delisting from the Warsaw Stock Exchange.
Bank Zachodni WBK in its $1.5 billion merger with Kredyt Bank.
Mondi Group in its $368 million all-cash public tender offer for all of the share capital of its affiliate, Mondi Swiecie, with the intention of delisting Mondi Swiecie from the Warsaw Stock Exchange.
ITI Media Group and TVN in the agreement with Vivendi through its Polish subsidiary Canal+, to combine their pay-TV operations in Poland in a joint venture reported to be valued at $1.7 billion named "n/C+".
PKN ORLEN in its $2.3 billion acquisition of AB Mazeikiu Nafta from Yukos International UK.
Polskie Gornictwo Naftowe i Gazownictwo (PGNiG) in its PLN 2.7 billion initial public offering.
For many years Pawel Rymarz has been recognised by international legal rankings such as Chambers & Partners, The Legal 500, IFLR 1000, PLC Which Lawyer?, Expert Guides and Best Lawyers, as well as local legal rankings of a leading Polish daily, Rzeczpospolita, and the Polish edition of Forbes, as one of the leading lawyers in Poland for M&A, private equity, corporate law and corporate governance, equity and debt capital markets, restructuring and insolvency, energy and natural resources, and telecommunications, media and technology.
The prestigious legal ranking publication Chambers & Partners has, since the inception of its Poland rankings, ranked Pawel in Band 1 for corporate/M&A; it has also repeatedly ranked him in Band 1 for capital markets and as one of Poland's finest restructuring/insolvency specialists. According to the most recent report, "Pawel Rymarz is a top-ranked lawyer in equity capital markets and M&A, and also acts on restructuring and private equity matters. Clients note 'He is a very thoughtful lawyer who has seen many deals, so it is very useful to get his view, especially if it is a contentious transaction.'" The report goes on to say that "managing partner Pawel Rymarz brings a wealth of experience in complex M&A transactions. Clients say: 'He knows how to deal with deadlocks and understands when there is time for concessions and which points to insist on' and 'he is an excellent lawyer who is a very good negotiator, providing strategic, high-level advice.'"
Pawel Rymarz has been voted by his peers Poland's Best Lawyer for M&A/privatisations/restructuring in five editions of the legal ranking prepared by Rzeczpospolita and in its last edition he was voted one of the leaders in this field.
Pawel Rymarz is an arbitrator at the Court of Arbitration at the Polish Chamber of Commerce.
Pawel is fluent in English and conversant in Russian.
Awards and Recognition, Latest Thinking, Firm News & Announcements
Firm News & Announcements